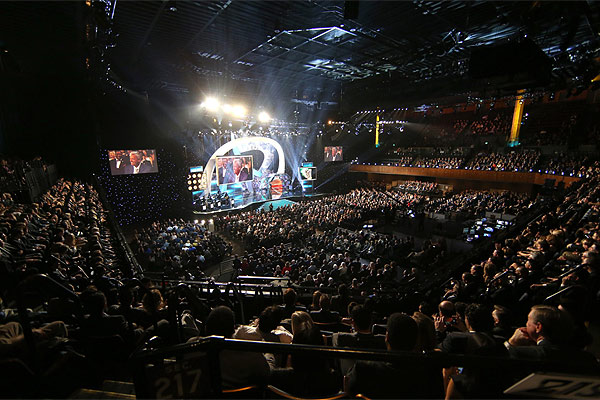 No hubo excesivas sorpresas en los galardones individuales de la NFL, los «NFL Honors» concedidos en la noche de ayer en una ceremonia celebrada en el Bill Graham Auditorium San Francisco. La espectacular temporada de Cam Newton continúa tras ser coronado como Mejor Jugador de la Temporada con 48 de los 50 votos posibles.
Newton y J.J. Watt se llevaron los premios más codiciados. El línea defensivo de los Texans tuvo además un mensaje para todos sus «haters». «Fue un recluta de 2 estrellas cuando salí de high school, y ahora tengo tres premios al mejor jugador del año. Lo siento por todos los que dudaron de mi.» declaró Watt.
Además fue una noche muy emocionante para Brett Favre, Tony Dungy, Kevin Greene, Marvin Harrison, Orlando Pace, Eddie DeBartolo Jr., Ken Stabler y Dick Stanfel todos ellos anunciados como clase 2016 del Pro Football Hall of Fame.
El Comeback Player of the Year, se lo llevó Eric Berry quien regresó a los terrenos de juego tras superar un cancer. «Sentí que no podría volver a hacerlo de nuevo», declaró en un emotivo discurso.
La lista completa de ganadores:
» 2016 Pepsi NFL Rookie of the Year: Jameis Winston, QB, Tampa Bay Buccaneers
» FedEx Air & Ground Players of the Year: Carson Palmer, QB, Arizona Cardinals; Adrian Peterson, RB, Minnesota Vikings
» AP Offensive Rookie of the Year: Todd Gurley, RB, St. Louis Rams
» AP Offensive Player of the Year: Cam Newton, QB, Carolina Panthers
» Salute To Service Award: Vincent Jackson, WR, Tampa Bay Buccaneers
» Clutch Performer of the Year: Drew Brees, QB, New Orleans Saints
» AP Coach of the Year: Ron Rivera, Carolina Panthers
» Art Rooney Award: Charles Woodson, S, Oakland Raiders
» AP Defensive Rookie of the Year: Marcus Peters, CB, Kansas City Chiefs
» AP Assistant Coach of the Year: Wade Phillips, Denver Broncos
» Don Shula HS Coach of the Year: Michael Burnett, Tuscarora (Virginia) High School
» «Greatness on the Road» Award: Antonio Brown, WR, Pittsburgh Steelers
» AP Defensive Player of the Year: J.J. Watt, DE, Houston Texans
» NFL.com Fantasy Player of the Year: Antonio Brown, WR, Pittsburgh Steelers
» Deacon Jones Award: J.J. Watt, DE, Houston Texans
» AP Comeback Player of the Year: Eric Berry, S, Kansas City Chiefs
» Walter Payton NFL Man of the Year: Anquan Boldin, WR, San Francisco 49ers
» Performance Play of the Year: Aaron Rodgers por su Hail Mary vs. Lions
» AP Most Valuable Player: Cam Newton, QB, Carolina Panthers